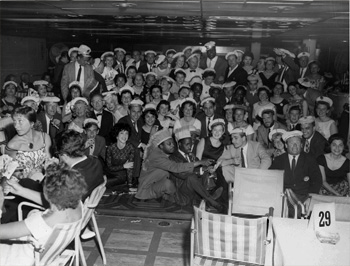 Okay. This is not a New Year's Eve party, but what with all the funny hats and noisemakers, the mood seems right. On May 25, 1959 Ismar and Hortense David boarded the French liner, S.S. Flandre, headed toward LeHavre. Sometime during the voyage, they attended this party.
The Flandre was the first French liner built after World War II and set out on her maiden voyage on July 23, 1952. She had trouble on this voyage and endured massive overhaul before she could set sail for a second time. By then she was nicknamed "The Flounder." However, the revelers in this photo, taken almost seven years later, don't seem to be suffering (or feeling any pain for that matter.) And indeed the S.S. Flandre had by then become a distinguished, well-appointed and successful ship, spending nine months of the year crossing the Atlantic and the other three cruising the Caribbean. Ismar, wearing a bow tie, is in the center of this detail with white-haired Hortense leaning over his shoulder.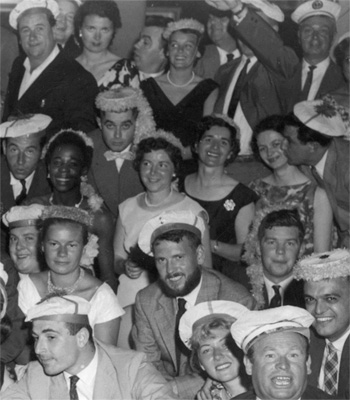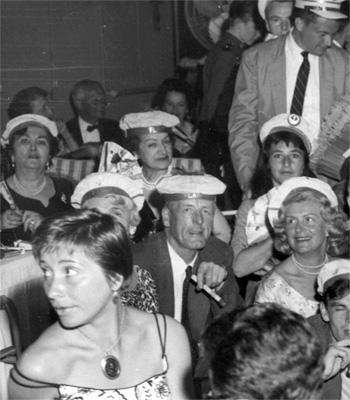 The black-hulled S.S. Flandre was 599 feet 6 inches long and 80 feet 3 inches wide, and could travel at 22 knots. In 1953 she carried 341 passengers in first class, 302 in cabin class and 164 in tourist class. Over the years she was reconfigured to accommodate more. Photos of the ship may be found on the French Lines website, and then typing Flandre in the search box. Unfortunately their online passenger lists extend only until 1939.