Wood seder plate, with stenciled lettering.
Ismar intended this design to be made with wood inlay. The renovation of the Brotherhood Synagogue had been recently been completed, where his designs for the Aron hakodesh and cantilevered canopy had been executed with lazer-cut wood inlay, to very pleasing effect. The front of the box has little doors which can be opened by pushing from the back, to show the matzah inside.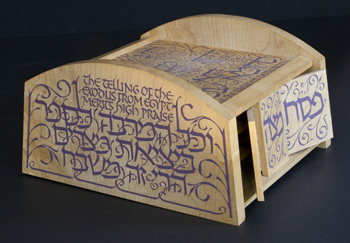 Elijah cup, designed to accompany the Seder plate.