Allen, Charles Livingstone. The Beatitudes: An Interpretation. Illustrated by Ismar David. [Westword, NJ]: Fleming H. Revell, 1967. 61 p., 20cm.
Dust jacket design; illustrations.
Ismar illustrated 5 books by Charles Allen as well as designing dust jackets for 4 other books. With it's sibling volumes, The Twenty-Third Psalm,The Lord's Prayer, and The Ten Commandments, the slim The Beatitudes looks like a preparation for Les Pensées and The Psalms.
BLESSED ARE THE POOR IN SPIRIT: FOR THEIRS IS THE KINGDOM OF HEAVEN
BLESSED ARE THEY THAT MOURN: FOR THEY SHALL BE COMFORTED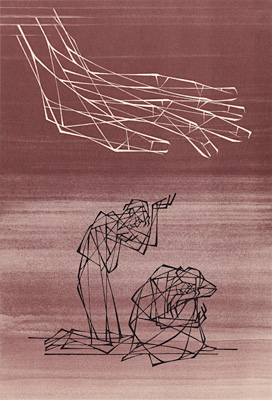 BLESSED ARE THE MEEK: FOR THEY SHALL INHERIT THE EARTH
BLESSED ARE THEY WHICH DO HUNGER AND THIRST AFTER RIGHTEOUSNESS: FOR THEY SHALL BE FILLED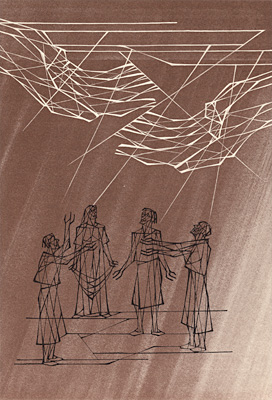 BLESSED ARE THE MERCIFUL: FOR THEY SHALL OBTAIN MERCY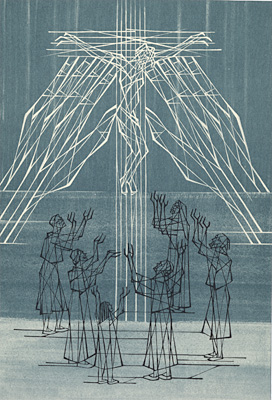 BLESSED ARE THE PURE IN HEART: FOR THEY SHALL SEE GOD
BLESSED ARE THE PEACEMAKERS: FOR THEY SHALL BE CALLED THE CHILDREN OF GOD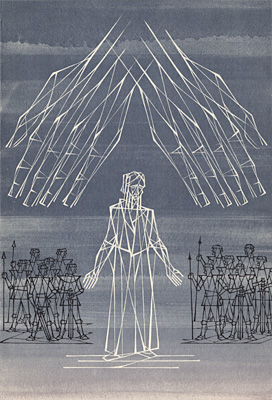 BLESSED ARE THEY WHICH ARE PERSECUTED FOR RIGHTEOUSNESS' SAKE: FOR THEIRS IS THE KINGDOM OF HEAVEN