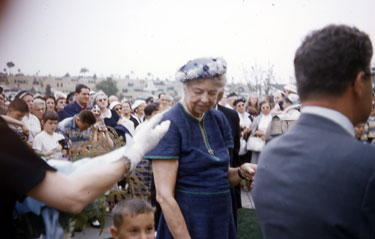 "Of one thing I am sure," Eleanor Roosevelt wrote, "in order to be useful we must stand for the things we feel are right, and we must work for those things wherever we find ourselves. It does very little good to believe in something unless you tell your friends and associates of your beliefs."
From December 1935 until September 1962 the former First Lady wrote MY DAY, a six-times a week syndicated newspaper column, in which she reported her activities and expressed her opinions. At the end her syndicated column for June 4th 1957, she spoke of attending the unveiling of the Bible Archway at Beth Israel Cemetery in Woodbridge, NJ.
Ismar, the designer of the feature, sat in the audience. See him with his hat in his lap in this photo taken by Hortense Mendel David.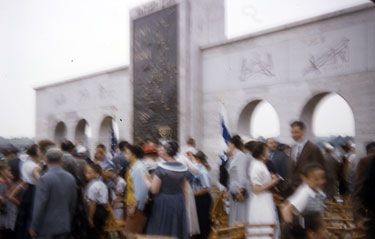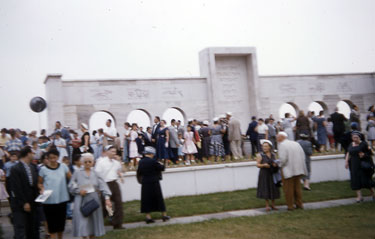 In 1953, cemetery-owner Leon Shipper approached Ismar about making a bas-relief map of Israel. In the photo below, he checks the work of the craftsmen.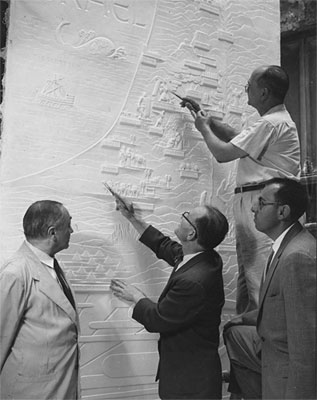 Since a 1953 rendering of the complete feature by Burt Sullivan exists, I surmise that the concept was already set, when Ismar entered the picture. His modifications to the original design can be seen in the finished construction.
Sullivan rendering.
Completed Bible Archway.
In addition to the bas-relief map, the Archway includes the 12 tribes of Israel, incised in the stone and colored.

Detail of the inscription on the other side of the feature, as it is today.